How to Write a Landing Page that Converts
Many people have no (or just the slightest) idea on how to go about writing a landing page that converts. Rather, they slop together components that they have seen utilized on other landing pages.  However, they generally do not put them together in the same manner as the owner of the successful landing page did.  It's more like Frankenstein's monster; a bit from this landing page and another piece from a different landing page.
One significant issue is copy.  And that's fine.  Not everyone is going to be an excellent writer– never mind a copywriter. However, as somebody selling a product or service or trying to build a list, it is essential that you understand your strengths and weak points and that you either spend some time to overcome your weaknesses or outsource the work to someone who can do it for you.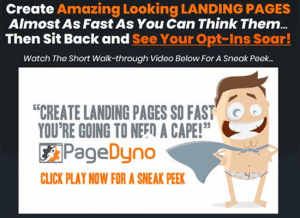 For some strange reason, the vast majority of people don't pay attention to their sales copy until the very last minute.  It is almost as though their landing page is an afterthought.
With copywriting, for example, it is necessary to use a mix of compelling sales points with effective psychological triggers.  These mental triggers are used to trigger the 'buy' switch in your visitors brain.  At the same time you have to understand that buying habits change and evolve over time.  And what worked yesterday will not necessarily work today.  It is unfortunate that a considerable number of people who write the sales copy for landing pages miss out on either one or both of those aspects.
For example, they may concentrate so much on building hype that they do not really discuss the solution they are providing– and for whom they are providing it to.  If I don't have the specific problem solved by your product, why would I buy it?  Simply put – I wouldn't.
If you fail to sprinkle in mental triggers throughout your landing page, such as "clinically shown," "guaranteed," and "shocking," few people will feel obliged to continue reading, as the benefits will have a low to average perceived value.
In addition to these 2 problems, some sales pages lack coherency and direction. The copy looks amateurish and it doesn't grind forward, breaking down the visitor's resistance to the sale compelling him or her to purchase a at each sales point.
Similarly, if there aren't several calls to action, another kind of psychological trigger, then a potential buyer may never feel obliged to pull out his or her charge card on the spot to make the purchase.
Things To Consider
In addition to coherent copywriting, there are other essential things you need to take into consideration when writing a landing page that converts. For instance, it is necessary to construct a compelling case for a limited timed offer. Now, this doesn't imply you have to create phony deadlines and constantly revise them weekly. Doing this is an excellent way to ensure your complete loss of credibility in the fastest time possible.
---
Go to IMWarriorsedge.com for the following:

However, when preparing your copy, you will want to make certain that you constantly advise the reader to act right away by inserting a variety of "calls to action", as I have actually discussed previously.
You may want to consider using fly-ins or pop-ups to develop your buyers fear of missing out (FOMO) or to make a limited timed deal. Possibly you can use a countdown to create urgency (i.e. when somebody lands on your landing page, they have 5 minutes to acquire the product at the lowest price or the price goes up every 10 minute etc.).
If you're developing a capture page, you may want to use slightly different tactics. Rather than constructing an engaging case with numerous triggers and calls to action over the course of 1000 words or so, you may want to simply condense that all of that into a compelling headline and a single paragraph of "advantages".
For an entirely free-to-join squeeze page, you more than likely won't have a considerable amount of resistance to signing up, unless the visitor:
a) Does not see any advantages in doing so; and
b) Suspects that you will sell their email address to spammers.
Both of these problems are reasonably simple to resolve. You could for instance just state the exact benefits they will get for joining in your heading with the usual mix of psychological triggers.  And in the first paragraph of your copy, provide an engaging reason to sign up i.e., the price may increase, the list may become personal or you'll get this amazing report.
Now, to get rid of the 2nd problems, simply write a brief line under your opt-in form that states that you will not, under any circumstances, spam them or sell their email address and name.
Also, when it comes to copywriting you should bear in mind that it also applies to emails.  Never underestimate the power of emails and email marketing.  Even today, in this social media driven world, it remains extremely powerful.  A short, clever and catchy email can do more for your income than working on a sales page for months.
To your future success,
Alain